When I first read City of Bones a few years ago, I got totally hooked. I really liked the plot (the plot twists are crazy), the characters, and the way Cassandra Clare just winds up your emotions as you read the story. It has lengthy descriptions making the book very vivid and detailed. Some might find it a little too much, or a little too wordy for their tastes, but I was okay with it. In fact, I immediately became a fan of Cassandra Clare's Shadowhunter books.
I went through the first three books like it was nothing, and I really enjoyed the whole reading experience. But when I picked up and started the fourth book, City of Fallen Angels, all the eagerness to read it was nowhere to be found. I don't know why, but I didn't feel like reading it. This happened two years ago, and up until now I haven't gotten past the first few pages of the book.
I have a few bits of theories as to why I haven't gotten past the third book.
#1

I was (sort of) satisfied with City of Glass' ending. There was an epic battle, characters died, relationships were mended and started, etc... And from what I remember, The Mortal Instruments was originally just a trilogy: City of Bones, City of Ashes and City of Glass. I don't know exactly what happened, but the story continued, and the trilogy became a six-book series. I guess my mind never got over the fact that City of Glass is not the last book. It is not yet the end.
#2

This second theory is a little harder to explain, and it's a little weird.
Have you ever felt kinda bored reading about a YA couple? See, I have this girl-boy fictional relationship problem. In my mind, there are stages of a YA Romantic Relationship: (1) the first encounter; (2) the largest and most significant part, the relationship-building and development; (3) the "it's official" stage; (4) the stage of conflicts and misunderstandings; and lastly (5) the "getting back together" stage. That's the normal course of a typical YA relationship for me. I love reading about the first two stages. But a little after the third and the fourth stages are my most hated parts. And guess what stage Jace and Clary's relationship are in? I'm not trying to be judgmental or anything, but I guess that'show my brain works these days.
#3

Maybe I'm just not so into the series anymore. Yes, I am a fan of the series, but I really don't feel like continuing it at the moment.
Anyway...
700+ pages of pain, heartbreak, fury, love,
happiness, and all other intense emotions.
Get your copies now.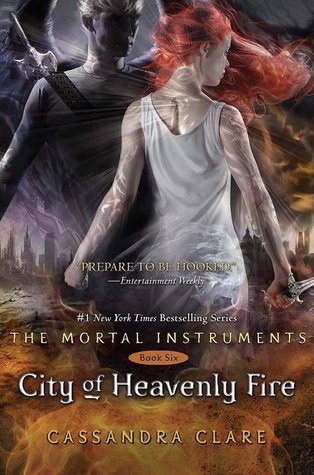 In time, I will probably be able to read and finish this series. But tight now, I just wish all the fans a wonderful reading experience (prepare yourselves!). And for those tragically broke, or those who are still saving up to buy the book, will the book trailer make you feel any better?
No, I have not seen the trailer.
I do not want any spoilers for City of Lost Souls and City of Fallen Angels.
Happy reading!!!
BYE!